It's been a huge fortnight at North Harbour – one of the biggest we've had…ever! Our new Display Village opened, we moved into our new Sales & Information Centre and last, but certainly not least…the first North Harbour Café opened! Mmmm coffee…So much is happening and there are now even more reasons for First Home Buyers to choose to live at North Harbour.
New Display Village
North Harbour's new Display Village is a must-visit for anyone looking to buy houses in Australia. Thirteen of our builder partners have opened their stunning new homes already with the remaining six more due to open by the end of this month. On completion, we will have 33 brand new house designs on display, with the very latest interior stylings available to browse. What a great way to explore the latest and greatest in Realestate near Brisbane!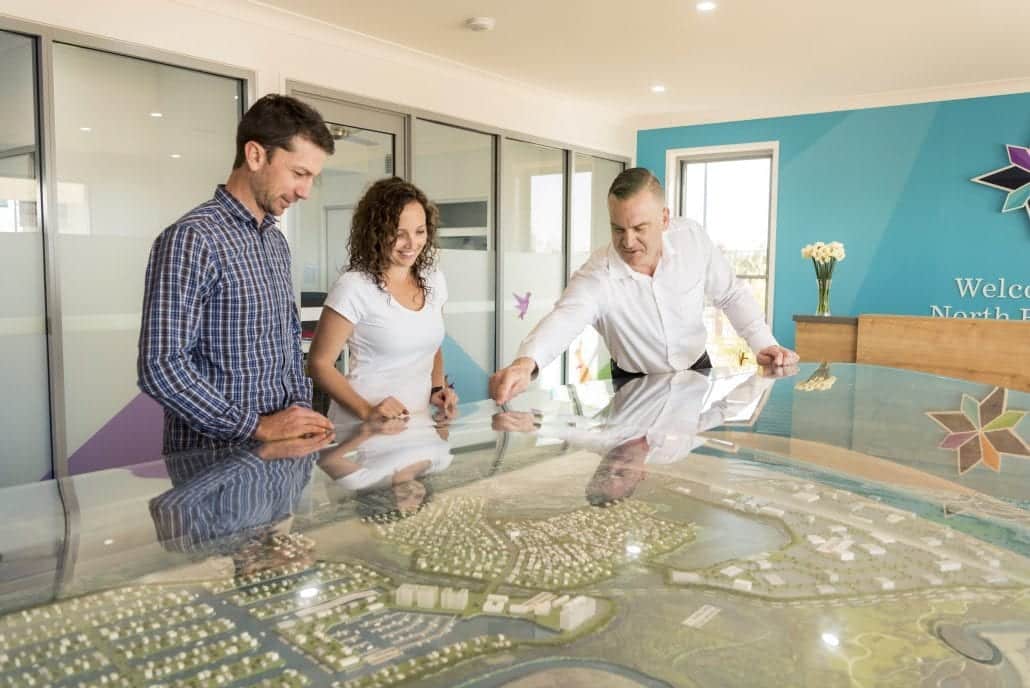 Open now:
Bold Properties, Burbank, Coral Homes, Homes by CMA, Hallmark Homes, Intergrale, GJ Gardner, Metricon, Pantha, Oracle, OJ Pippin, Sunvista and Stylemaster are all open now.
Bold Properties has two designs on display, both 4 beds, the Sophia M 22 and the Athena 349. Learn more here.
Coral Homes has three designs showcased at North Harbour, the Noosa 25 MK II, the Milan 27 and the Lisbon 31. For more information on Coral Homes click here.
Metricon Homes also has three brand new homes to explore at North Harbour. The Savannah 40, the Santorini 32 and the Grandview 33. For more on Metricon at North Harbour head here.
Opening soon:
Valeco, McLachlan, OJ Pippin and Stroud will open soon. For more information on North Harbour's Display Village including an interactive map click here.
North Harbour Café
Everyone who works and lives at North Harbour has been looking forward to adding a café to the growing list of things we enjoy about life at North Harbour – and we haven't been disappointed! The new North Harbour café is located next to the Sales and Information Centre and offers great coffee, breakfast, lunch and snack options with an ever-expanding array of goodies including gluten free options! Service with a smile is also on the menu and the North Harbour team, residents and visitors are loving having such an excellent eatery on our doorstep. Thanks guys! To find out more about the café click here.
North Harbour Sales & Information Centre
It's new, it's big and it's BEAUTIFUL! The team is loving working in such a great building and we're enjoying all the extra space. Thanks to everyone who has dropped in to say hi – and don't forget, if you're out and about we're open 10am -5pm every day and we still have a spot for the kids to play while you're considering all the house and land package options available to you in North Harbour.
Save the Date – Saturday 28th July
North Harbour's Grand Opening Big Street Party kicks off at 12 noon with Councillor Peter Flannery officially opening the new Display Village. Make sure you're there bright and early to give yourself enough time to complete the North Harbour Display Village Passport challenge for your chance to win a share in $5,000 of prizes!
Simply grab a copy of the passport from the Sales and Information Centre when you arrive and make sure you get it stamped by each of our 17 builders on your way around the Display Village. Then, drop it back into the Sales and Information Centre into one of the specially marked letterboxes and you're in with a chance to win!
First prize is $2,500 visa card
Second prize: $1,500 visa card
Third prize: $500 visa card
Plus, five runner up prizes of $100 visa card
Entrants must be over 18 and terms and conditions apply – these will be displayed on the North Harbour website and Facebook event page closer to the launch date. (Please note that Display Homes will be closing at 5pm so ensure you have enough time to visit each builder.)
We'll also have live music from solo artists performing throughout the day, a DJ pumping out the tunes, free activities for the whole family and roving entertainment including a magician, juggler, stilt walker, clown, unicycler, acrobat and balloon artists to keep the Street Party fun flowing!
With everything going on at North Harbour this month, we'll need all the awesome coffee the café can provide! Have a great week, and hope to see you on the 28th.
Our Brand-New Sales and Information Centre & 33 Home Display Village are open every day from 10am-5pm including public holidays – still the best one-stop shop on any hunt to buy houses. Sales & Information Centre is located on the corner of Buckley and Fraser Drive in Burpengary East, one of the best places to buy Real Estate near Brisbane.
For more information on our available houses for sale please contact us. To keep up to date with the latest news and info including land releases, sign up for our email and SMS updates and find us on Facebook. https://www.facebook.com/northharbour/
https://www.northharbour.com.au/wp-content/uploads/2018/07/atp_portfolio_northharbour_0718_0851.jpg
924
1384
Client Services
https://www.northharbour.com.au/wp-content/uploads/2017/06/North-Harbour-Logo-Reverse.png
Client Services
2018-07-13 16:04:32
2019-06-25 14:01:21
Why So Many People Choose to Buy Houses at North Harbour