Common House Buying Questions Answered
November 15, 2019
Common House Buying Questions Answered
Our experienced Sales team have welcomed many new buyers to North Harbour and been asked a lot of questions during that time. We've compiled the below list of some of the most Common Home Buying Questions we've answered:
1 – What is a house and land package?
One of the most common home buying questions we've answered is "What is a house and land package"?
A "house and land package" is when we, as the land seller, request a house design from one of our builder partners which will fit on a block we have for sale. The home design must be within our covenant and building regulations such as side, front and rear setbacks and so on. We then put the house design and the land together into a House and Land Package to showcase to our prospective buyers.
House and land packages are created to give buyers a clear idea of what is achievable with certain blocks and house designs. The North Harbour Sales Team knows that house and land packages supplied by our builder partners work with our covenants and building requirements, therefore choosing a house and land package can streamline and simplify the buying process, particularly for first time buyers.
House packages come with a variety of optional inclusions from basic requirements up to marble benchtops and top of the range cookers. Each builder offers a range of different packages to suit a range of needs and budgets.
2 – How much land do I need to build a house on?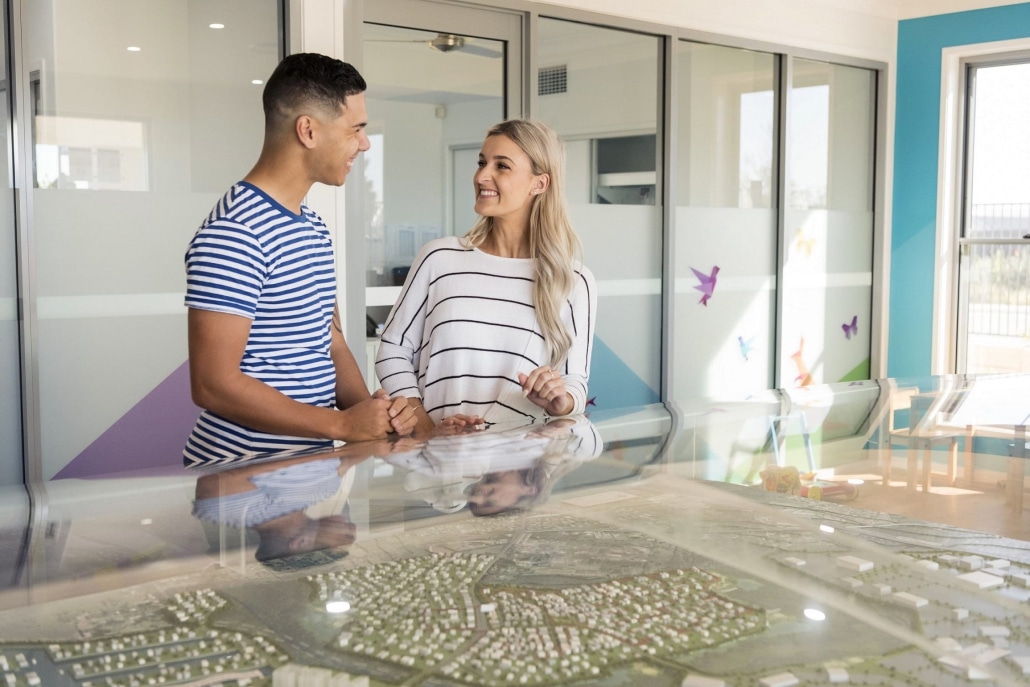 This is another of our frequently asked questions from home buyers and the answer really depends on what you need to include in your home. For example, a large family might need a bigger block to suit a large home, or you might want a smaller home but extra outdoor space for a pool, or a shed to keep a caravan in – the beauty of building is that the choice is yours and the options are a lot wider than purchasing an established home. Our lot sizes generally range from 300sqm up to around 950+sqm so you have plenty of sizes and options to choose from.
Traditional – minimum size 576sqm approx. with 18m plus frontage, ideal for growing families

Courtyard – minimum lot size 448sqm approx. with frontages from 14m to 18m

Premium Villa – minimum lot size 400sqm approx. ideal for first home buyers and downsizers

Courtyard 25 – minimum lot size 350sqm approx. excellent for low maintenance living

Premium Villa 25 – minimum lot size 300sqm approx. our lock up and go, low maintenance type option, great for first home buyers, buyers keen on downsizing.
3 – What is the First Home Buyers Grant?
This is another of the most common home buying questions we've answered. The Queensland First Homeowners' Grant is a state government initiative to help first homeowners to get their new first home sooner. You may be eligible for $15,000 towards buying or building your new house, unit or townhouse (valued at less than $750,000). The grant is paid per new home and not to each of the applicants for the same home. For more information and to find out if you are eligible, click here.
4 – How much deposit do I need?
There are a lot of financially based frequently asked home buying questions but the most common is related to deposit amounts. The deposit required is usually 10% of the total purchase price. While you're saving you can start researching property prices, areas and home loans and check if you are eligible for the First Home Buyer's Grant. Remember that you will also need money for expenses on top of your home purchase such as legal and conveyancing fees.
5 – What should I do first?
Before you start house hunting, make a list of must-haves, and don't-wants, to add them to your home buying checklist. We recommend all our buyers visit multiple builder display homes in our display village. Whether you're buying an established home or building your brand-new dream home, you need to know what you want, to get what you want.
To find out more from our experienced Sales team please contact us.
Find North Harbour
North Harbour's Sales and Information Centre & Display Village is open seven days a week, 10am-5pm including public holidays. Located on the corner of Buckley Road and Fraser Drive in Burpengary East, our 31 home Display Village is a great one-stop-shop for house hunters, showcasing brand new designs from 16 of Australia's best builders including Bold Living, Burbank Homes Coral Homes, GJ Gardner Homes, Hallmark Homes, Homes by CMA, Integrale Homes, McLachlan Homes, Metricon Homes, OJ Pippin Homes, Oracle Platinum Homes, Orbit Homes, Pantha Homes, Stroud Homes, Stylemaster and Sunvista Homes. To find out more about our Display Village click here.
North Harbour is the winner of the 2018 UDIA Award for Best Residential Subdivision in Queensland and is EnviroDevelopment Accredited. To find out more about North Harbour please contact us and to keep up to date with the latest news and info, including our regular events, please sign up for our email updates and find us on Facebook and Instagram (@northharbourliving).