If You're Looking for New Houses in Brisbane, Check Out North Harbour's 31 Home Display Village!
January 10, 2020
Houses in Brisbane
North Harbour is home to the biggest and best Display Village on the north side of Brisbane. With 31 home designs available to view as well as a café and two playgrounds on site, our Display Village is a great one-stop-shop for house hunters looking for new houses in Brisbane.
North Harbour Display Village showcases stylish and innovative designs from 16 of Australia's best builders including Bold Living, Burbank Homes, Coral Homes, GJ Gardner Homes, Hallmark Homes, Homes by CMA, Integrale Homes, McLachlan Homes, Metricon Homes, OJ Pippin Homes, Oracle Platinum Homes, Orbit Homes, Pantha Homes, Stroud Homes, Stylemaster and Sunvista Homes. To learn more about our Display Village please click here.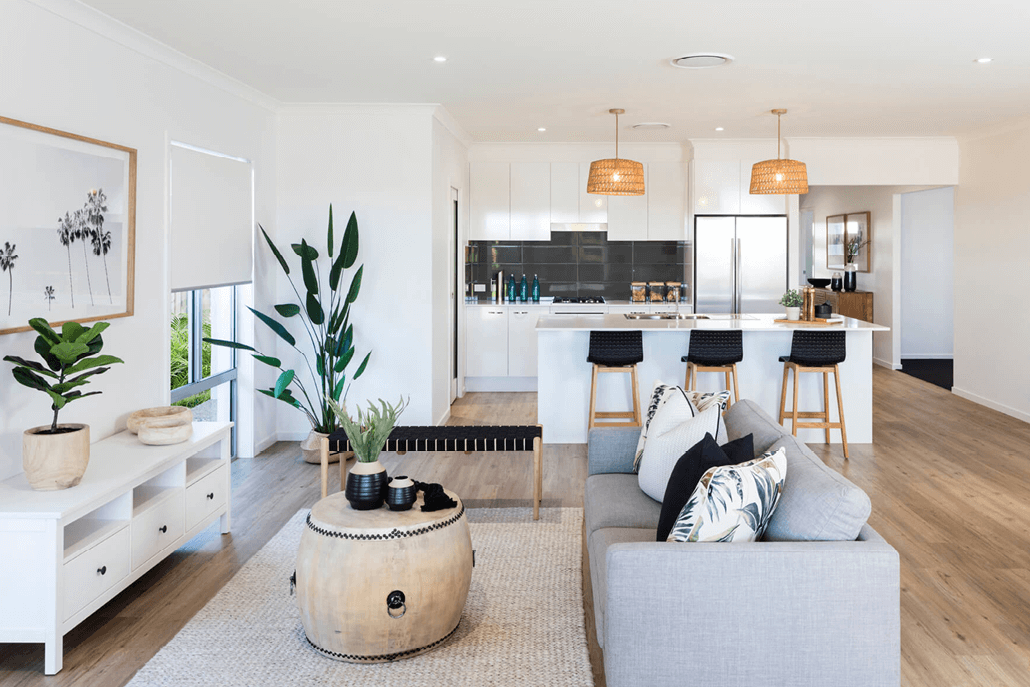 North Harbour and our builder partners also offer affordable house and land packages to make finding your dream house in Brisbane even easier. The term "House and land package" refers to the process of packaging a home design with a block of land for sale, something which is commonly done in the new home market to give buyers an idea of what is possible on a particular block. For example, when the North Harbour project team plans a new land release, the sales team works with our builder partners to provide samples of homes which could be built on specific lots, with varying frontage, sizing and so on. This is aimed at providing buyers with an idea of pricing and what can be achieved on a variety of land sizes and styles, enabling you to find the best design for you.
The Perfect House for You in Brisbane
Finding houses in Brisbane that suit your family can be tricky – particularly if you are looking in the established market which is one of the main reasons our buyers decide to build new. After all, why buy second hand when you can build your dream home and have everything you need, brand new?
There are many advantages to building your dream home and getting everything you want from the start of your home owning journey, rather than buying a home which needs work and more money spent on it after purchase such as an old kitchen and bathroom which you have to renovate.
Building your dream home at North Harbour offers you the opportunity to enjoy:
Latest in kitchen + bathroom finishes

Designs to suit even the largest families

Reticulated natural gas available to each home

Fastest fibre optic broadband

Five parks open of our proposed 1000 acres of open space and parklands – including our $3M riverside park with 6km of mountain bike track, dog parks, play equipment, half basketball court, fitness equipment and more

Bite Markets at North Harbour – 3 minutes from North Harbour itself is our open air dining precinct which is home to over 40 food and beverage outlets. Open every Friday and Saturday night, with live entertainment, activities for kids and more

Free weekly events, yoga classes and parkrun

North Harbour Café, open 7 days a week plus Friday burger nights and weekend breakfasts
Why Buy at North Harbour?
2019 was a milestone year for North Harbour. We opened three parks, Riparian, Habitat and Heritage which brings our total to five so far. We also opened Bite Markets, our first mountain bike trail and started construction on our first child care centre. We also had heaps of events, partnered with more amazing community partners and welcomed hundreds more people to live at North Harbour. To check out our awesome year in review, click here. 
With all this happening and more to come in 2020, there's never been a better time to move to North Harbour. Not only are homes in North Harbour extremely affordable, quality of life is also cited as a major reason people move here. Our unique, environmentally accredited residential development is located in the northern corridor (between Brisbane and the Sunshine Coast), along 9km of the Caboolture River. Our location is excellent for both work and play being 35 minutes from the Sunshine Coast and 45 minutes from Brisbane CBD.
North Harbour's suburb of Burpengary East is regularly named as one of the best value suburbs in Queensland due to its excellent location, outstanding amenities and strong community feel, with many recreation opportunities and transport options with easy access to the highway and train stations.
Building your dream home in this sought-after suburb is extremely affordable with house and land packages at North Harbour starting from $369,500 for a 3-bed terrace home and starting at around $400,000 for a four bed home. We have house and land packages to suit a range of buyers, with varying land sizes available in our regular new land releases from 300sqm up to around 945sqm. To talk to a member of our sales team about starting your home owning journey contact us.
Find North Harbour
North Harbour's Sales and Information Centre & Display Village are open seven days a week, 10am-5pm. Located on the corner of Buckley Road and Fraser Drive in Burpengary East, our Display Village includes a café and two playgrounds to keep kids entertained while you browse.
To find out more about new houses in Brisbane please contact us and to keep up to date with the latest news and info, including our regular events, please sign up for our email updates and find us on Facebook and Instagram (@northharbourliving).