TownLiving by Metricon Terrace Homes Are Now Available at North Harbour, Priced from $367,000!
March 14, 2019
TownLiving by Metricon Terrace Homes
TownLiving by Metricon's Normanby Crescent Residences are bringing a brand-new housing style to North Harbour!
Priced from $367,000, these stunning new 3-bed, 2-bath homes offer the latest in lock up and go living. Comprised of eight contemporary, terraced residences, Normanby Crescent Residences is located opposite Habitat Park (currently under construction) as well as being close to the existing Village Park at North Harbour. The Terrace Homes also have easy access to the future $3M Heritage Park.
Created by Australia's leading builder – Metricon Homes, each home's clean-lined design celebrates natural light with spacious living and dining areas. Outstanding features include:
No body corporate unlike

town houses

Quality fixtures and fittings

Directly opposite Habitat Park

North facing outlook

Easy access to parks, walking trails and bike paths

Close to cafes, schools, childcare and shops

Fast broadband

Free events at North Harbour every weekend
These eight new terraced homes will be built in Normanby Crescent. Two homes will be end of terrace which means they offer a double garage and are priced at $408,500; six will offer single garage homes priced at $367,000.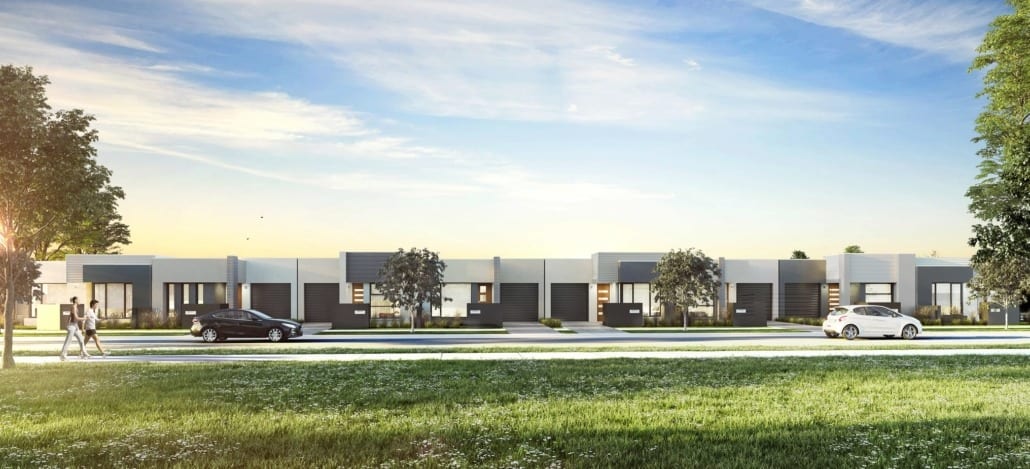 To find out more about Metricon Terrace Homes visit Metricon's website here.
Metricon Homes
Metricon Homes is Australia's No. 1 Builder
More Australians choose to build with Metricon than any other builder and that's why Metricon Homes is consistently ranked the no. 1 home builder by the Housing Industry Association (HIA) – Australia's peak national industry association for residential construction and home building.
"Our customers have and always will be our top priority, and it is a privilege that Australian home buyers continue to trust us with the most important purchase of their lives. It's what drives us to continually improve our delivery of superior design, great quality construction and customer care," – Ross Palazzesi, Managing Director.
Metricon Homes has three stunning homes on display at North Harbour for you to discover. As you explore these displays, it is evident that Metricon Homes are experts at designing floorplans with great flow and providing that crucial seamless indoor-outdoor integration to make the most of our Queensland climate.
What is also reassuring to future home builders, is that the high-quality craftsmanship you see in these displays is what you will receive as a customer building with Metricon Homes.
The three homes on display at North Harbour Display Village are from Metricon's Freedom by Metricon range which are spacious, stylish and affordable and represent 'more home for less'.
Metricon Homes understands that every family is different and so there are multiple floorplans and upgrade options to choose from for each home to suit your growing family and needs. You will love coming home to these high quality, value-packed homes from Metricon.
North Harbour Living
North Harbour will be home to five parks by the end of 2019!
Our first park, the Village Park, opened in October 2015 in Moreton Bay Boulevard, close to Normanby Crescent. It incorporates two areas of play equipment to suit both older children and pre-schoolers and has Wi-Fi, shelters, drinking fountains (for people and pets) and BBQs on 6000m2 of beautifully landscaped space.
Very popular with both residents and visitors, the Village Park has become the centre of North Harbour's community playing host to many events, birthday parties, playdates, boot camps and much more.
Our second park, Reflections Park, opened in 2017 (or 2018?) and is located on the south-western side of North Harbour near the Raff Creek Environmental Corridor. Reflections also includes play equipment aimed at young children, exercise equipment, BBQs and shelters. Reflections is also home to Sunday Sunrise Yoga in the Park, which is a free yoga class, suitable for all ages.
Riparian Park, which will include play equipment aimed at older kids such as a flying fox and basketball half court and shelters, BBQs and fitness equipment, is scheduled for completion in mid-2019. Habitat Park is adjacent to the proposed Terrace Homes and is also scheduled to open in 2019 and will include an off-leash dog exercise area.
The Heritage Park is a $3M facility which will open in late-2019 and offer fishing platforms/ canoe launch, BBQs and picnic amenities including toilets, heritage trails and an interpretive centre. The Heritage Park area is currently able to be accessed on Saturday mornings at 7.00am for those participating in the free, weekly North Harbour parkrun. For more information and directions please click here.
North Harbour boasts the largest area devoted to open space and parklands within the northern corridor. Our open space and parklands area will span 1000 acres. Extensive bike and walking tracks will give residents plenty of options for exercise and fun activities. Also included in our masterplan are proposed playing fields and a sporting complex.
Find North Harbour
North Harbour's Sales and Information Centre & Display Village with café and two playgrounds is open seven days a week, 10am-5pm. Located on the corner of Buckley Road and Fraser Drive, Burpengary East, the Display Village showcases 33 brand new homes designs from 17 of Australia's best builders including TownLiving by Metricon. North Harbour recently won the UDIA Queensland Award for Best Residential Subdivision and is EnviroDevelopment Accredited.
For more information on Metricon Terrace Homes and land for sale at North Harbour, please contact us.
To keep up to date with the latest news and info, including our regular events, sign up for our email updates and find us on Facebook. https://www.facebook.com/northharbour/