North Harbour's New Display Village has 33 Brand-New Homes from 17 of Australia's Best Home Builders
August 4, 2018
17 of Australia's Best Home Builders
North Harbour's brand-new Display Village is now open! With 33 brand-new designs from 17 of Australia's best home builders, our Display Village is the biggest and best on the northside of Brisbane and is the perfect one stop shop for anyone looking for houses for sale, interior design tips and more.
And – North Harbour has just received a major environmental accolade with our masterplanned development being awarded EnviroDevelopment accreditation in recognition of our commitment to environmental excellence. EnviroDevelopment is a scientifically based assessment scheme which independently reviews development projects and awards certification to those that achieve outstanding performance across four or more of the provided elements – Ecosystems, Waste, Energy, Materials, Water and Community.
Our Project Director Peter Lightbody said: "North Harbour was awarded accreditation across all six elements of the EnviroDevelopment criteria. 
"This independent assessment recognises the efforts of the development team to make North Harbour an environmentally sustainable community and is excellent news for our residents and the wider community.
"We look forward to continuing towards our goal of sustainable development which enhances and sustains our local environments and eco-systems."
North Harbour's EnviroDevelopment certification was awarded at this weekend's Grand Opening Big Street Party which began with Councillor Peter Flannery officially opening the new Display Village. Over 2,500 residents and visitors enjoyed live music from solo artists performing throughout the day, a DJ pumping out the tunes, free activities (including animal farm, jumping castle, giant slide and climbing rock wall) for the whole family and roving entertainment including a magician, juggler, stilt walker, clown, unicycler, acrobat and balloon artists.
The 17 home builders at North Harbour are: Bold Living, Burbank, Coral Homes, Hallmark Homes, Intergrale Homes, GJ Gardner, Metricon, Pantha Homes, Oracle Platinum Homes, Orbit Homes, Stylemaster, Valeco Homes, Homes by CMA, Sunvista Homes, McLachlan, OJ Pippin Homes and Stroud Homes. We have a brief rundown on who's who below and for more information about the home builders in our Display Village including an interactive map, please visit www.northharbour.com.au.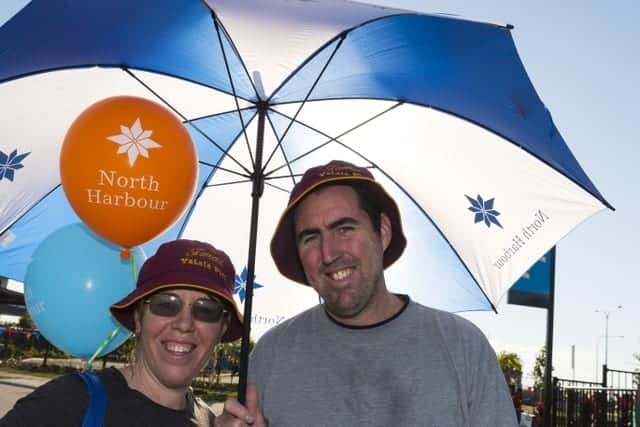 Bold Living: Each Bold home makes a unique statement, thanks to contemporary design, attention to detail, flexibility and quality in construction. Bold aims to accommodate every requirement, from luxury residences to family homes delivering maximum lifestyle for every budget.
Burbank has established a reputation as one of the country's most trusted builders. Led by a passionate team who live and breathe homebuilding, Burbank is a family owned and operated business with unwavering family values instilled in the heart of every home.
Coral Homes: One of the largest, most respected home builders in Australia, Coral has a vast building area and display home network spanning from Bundaberg to Sydney and west to Toowoomba.
The Hallmark Homes team is proud to have earned an enviable standing within the industry for building exceptional quality homes to superior specifications and is recognised as one of Queensland's most dependable and quality-driven project home builders.
Homes by CMA: CMA's goal is to provide a superior product at an affordable price, in the shortest possible build times. With sales doubling every year, most of the team's business comes from word of mouth.
Integrale Homes has have been building dreams and homes for years and is one of the leading building companies in South East Queensland. Integrale builds homes from Noosa and to the north of Brisbane including around the North Lakes, Redcliffe and Moreton Bay areas.
GJ Gardner is a Queensland grown, family owned business which started out in 1983. Since then the team has established a reputation of being one of the finest custom home builders in the country, so you can feel confident that you are dealing with a builder you can trust.
Metricon has a proud 40-year history of creating innovative, world class homes in Australia and the team is committed to designing homes which offer sophisticated features, open plan spaces and the ultimate in indoor/outdoor living for the Australian family.
McLachlan is a family owned and operated company which opened its first display home in 1997. The team builds in excess of 100 new homes each year in highly sought-after locations across the Sunshine Coast to South Brisbane.
OJ Pippin Homes is a family owned and operated residential builder based in Brisbane. With over 50 years of management experience, the team has worked hard to gain and maintain its reputation as an affordable builder of high quality homes.
The Oracle team understands that building a new home can be a daunting experience. "When you trust this massive commitment to us we give it the respect it deserves by only using high quality fixtures, fittings and materials."
Orbit Homes designs and builds family homes that suit the distinctive Australian lifestyle, delivering them in a streamlined and transparent process. "Our team has decades of experience, offering a wealth of knowledge to help you build the right home."
The Pantha Homes team knows that you don't just purchase a new home, you purchase a dream and a lifestyle and with that in mind they are able to customise any of their plans to achieve this. Their range of superb homes reflect an innovative and contemporary style offering TURNKEY inclusions that provide you with everything you need to make a house your home.
The designs of Valeco Homes cater to everyone from families to inner-city small lots, investors and first home buyers on a budget. For a professional finish, Valeco's building designers and interior design team rely on a combination of experience and industry training to create a modern, yet family-oriented finish. The Valeco team pride themselves on being a true complete turn-key builder.
Stylemaster: One of Queensland's most awarded homebuilders, Stylemaster has built an enviable reputation for delivering superior service and outstanding quality homes for Queensland families. Quality workmanship, attention to detail, reliability, value for money and superior customer service are the keystones of Stylemaster's business.
Sunvista Homes has been building quality Brisbane homes for more than 25 years. Whether you are a first-time home buyer, investor or planning on building your dream home the team can build house and land packages, build your design on our land or you can choose one of our existing designs for your block of land.
Stroud Homes is a group of licensed and local builders, each with years of personal design and building experience. The team are experts in the local area and are accustomed to the demands of the local councils and land developers. "It is quick and easy for us to provide you with a package that fits your land, your budget and your family."
Sales and Information Centre & 33 Home Display Village are open every day from 10am-5pm including public holidays, located on the corner of Buckley Road and Fraser Drive, Burpengary East. We're the people to meet for everyone looking to buy houses so contact us today!